---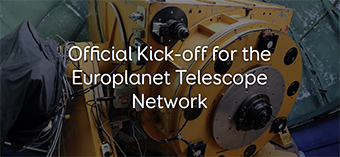 Earth-based observations play an important role in the study of planets, asteroids, and comets. Many planetary science targets are relatively close and bright compared to other astronomical targets, but the scientific result of their observation requires long-term monitoring, (for example, atmospheric activity of planets in the solar system), or synchronization. very precise, (for example, asteroids and comets). This combination of characteristics produces a unique set of challenges, as it matters so much where on Earth it is observed and precisely when. However, relatively small telescopes can produce world-class science.
Europlanet 2024 RI organizes the cooperation of a network of small telescopes to facilitate and coordinate observation campaigns related to different planetary science topics. It will alert the appropriate facilities of opportunities and ensure that adequately trained observers are available.
The main objectives of this campaign are:
Coordinate a network of small telescope installations (telescope diameters around 0.6-1.7 m) to react quickly and effectively to observation alerts.

Coordinate long-term professional and amateur observation campaigns and time-limited observations of objects in the Solar System, expanding the participation of amateur astronomers in planetary science.

Train and support amateur astronomers and integrate them into the planetary scientific community.
Ensure observational data from small telescope facilities is available through VESPA.

Integrate the network into the activities of Europlanet 2024 RI, the Europlanet Society and the broader community of planetary sciences in Europe and beyond.
The 'Access to Telescopes' program is linked to the Astronomy of the Solar System (excluding solar physics) plus exoplanets and contemplates the participation of groups that typically cannot access these telescopes, such as amateur astronomers and doctoral students, without undermining more experienced users. The application system will be anonymous, (the evaluators will not know who is requesting the time, only their proposal), and it will be done by the simplified method, thus facilitating the participation of amateurs.
-- Application form.   The deadline for submitting applications is from June 1, 2020 to June 30, 2023. More information on the evaluation and proposal selection processes, here.
Europlanet will not participate in the process of selecting proposals or obtaining observation time, but it will provide funds to be able to attend the observations, as well as to pay the costs associated with the observation time. If not all applications can be supported, those that have connections with the professional community and / or represent new collaborations between amateur groups will be promoted.
From the Iberian Node of Europlanet, (Spain and Portugal), we want to promote the participation of the Iberian community. If you need help to guide ideas or facilitate collaborations, you can contact This email address is being protected from spambots. You need JavaScript enabled to view it. or This email address is being protected from spambots. You need JavaScript enabled to view it., from the Iberian Node, or also This email address is being protected from spambots. You need JavaScript enabled to view it. from the Executive Board, or by email: This email address is being protected from spambots. You need JavaScript enabled to view it.
Among the telescopes available, (more than twenty to which others will be added), are the 1.2 m from Calar Alto, the IAC80, the Las Cumbres Observatory telescopes, including its 2.0 m, the Danish 1.54 m from La Silla (Chile), and many others from Central and Eastern Europe.
---