---

Europlanet Society promotes the advancement of European planetary science and related fields for the benefit of the community and is open to individual members and organizations. Anyone with an active interest in planetary science (whether academic or industrial, professional or hobbyist) is welcome to join the Society.
Our objectives:
Expand and support a diverse and inclusive planetary community across Europe through the activities of our 10 regional centers.

Build the profile of our sector through outreach, education and policy activities.

Support Europe's key role in planetary science by developing links at the national and international level.
The Society is the parent body of the annual Europlanet Scientific Congress (EPSC), the largest annual meeting on planetary science in Europe. Launched in September 2018, Europlanet Society builds on the 15-year legacy of Europlanet projects funded by the European Commission and provides a sustainable platform for the infrastructure, virtual access facilities, tools and services developed through these. activities.
The Europlanet Society is governed by an elected Executive Board and its activities are supported by Committees and Working Groups drawn from its members. The Executive Office of the Society is hosted and administered by the European Science Foundation in Strasbourg.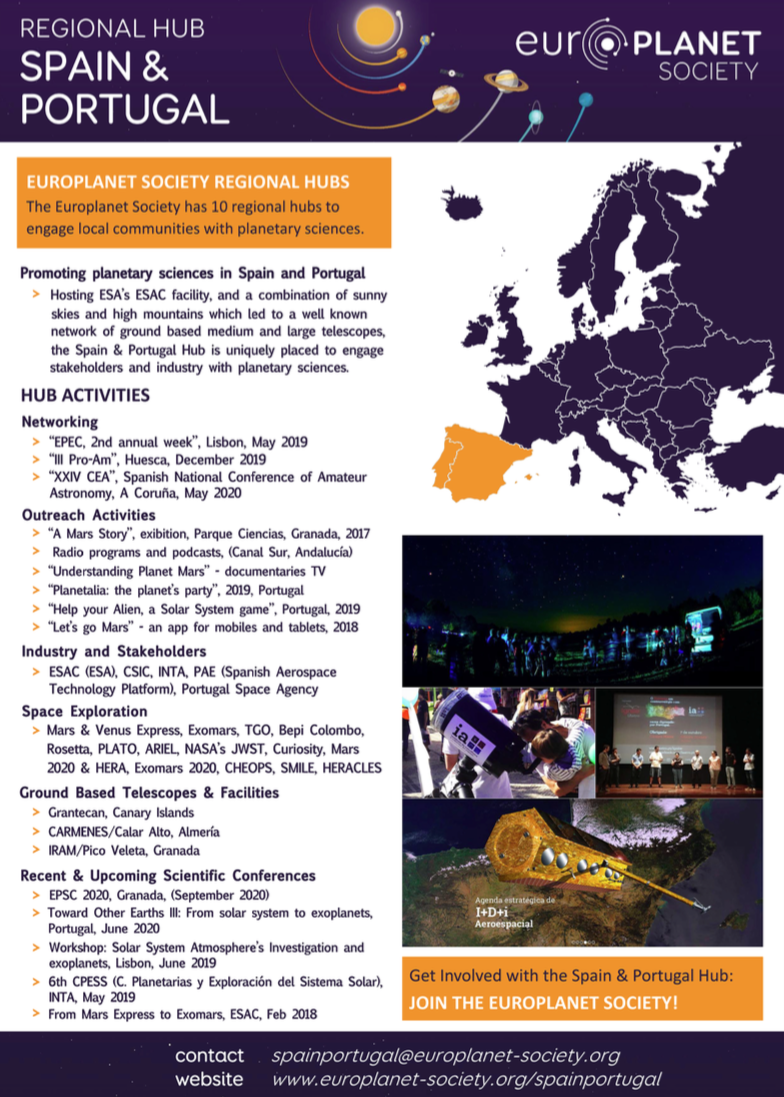 The Spain & Portugal Regional Hub is the Europlanet Society node for the Iberian Peninsula. Created in 2019, its purpose is to promote and facilitate the achievement of the objectives of the Europlanet Society in Spain and Portugal by developing links between them and with the rest of Europe through the creation of collaborative work networks in these areas.

The composition of the Committee that coordinates the Iberian Node is:
• Chair: A. Cardesín Moinelo (ESAC)
• Vice-Chairs: R. Hueso (UPV) / P. Machado (IA-Lisbon)
• Secretary: S. Fdez. Menéndez (ICTEA UniOvi)
• Rep. Spain: P. Benavides (UA)
• Early Career SP: D. Morate (CEFCA Teruel)
• Outreach & Comm. SP: J. Á. Vaquerizo (ISDEFE)
• Industry Officer SP: A. Catalán (PAE, Madrid)
• Rep. Portugal: E. Delgado Mena (IA-U Porto)
• Early Career PT: D. Espadinha (IA Lisbon)
• Industry Officer PT: Marta Gonçalves (PT Space, Lisbon)
• Outreach & Comm. PT: Joao Retre (IA, Lisbon)
• Amateur Community : J. Álvaro (FAAE/AstroCuenca)
• Policy Officer : Carlos García Sacristán (CDTI, Madrid)
• Diversity Officer: L. Parro (UA) / M. Ruiz-Perez (CAB)
• Space Ethics: S. Pérez-Hoyos / J. Hdez-Bernal (UPV)
• Astrobiology+EPS-RI: F. Gómez-Gómez (CAB)
• Instrumentation&Tech. Dev.: A. Moral-Inza (INTA)
• IberoAmerica: P. Benavides, R. Duffard, D. Morate (TBC)
Contact: This email address is being protected from spambots. You need JavaScript enabled to view it.
---