---


---
On May 15, a virtual workshop on the Europlanet Telescope Network (ETN) and access to the network by amateur astronomers was held. The workshop was jointly organized by the Europlanet 2024 RI, the Europlanet Society Regional Hub of Spain and Portugal, the Spanish Astronomy Society (SEA) and the Federation of Astronomical Associations of Spain (FAAE) with the additional collaboration of Calar Alto Observatory in Spain. The workshop had the active participation of some 70 people from Spain, Portugal, France and also from Latin America.

 

The information sessions, dissemination, practical application writing workshop and colloquium, were completed with a night of live remote observation with one of the ETN telescopes, the 1.23m telescope at Calar Alto observatory, during which observations were counducted of two comets, (C2021A1 and C2017K2), the transit of the exoplanet WASP-14b, and Saturn and its satellites covering examples of different topics open to the ETN program within the Pro-Am framework.

 

 

(1)

- ZIP file. If you have problems with the direct download, click the right mouse button and select 'download linked file'.

 

Saturn and moons. Single shot of 0.01 sec. close to sunrise on 05/16/2021 at 04:08:21 (UT)  

 

 

Recorded sessions

During the development of the night session, with observation objectives previously proposed by some of the participants, the raw data was shown, (without calibrating), as it was being generated which, in addition to its undoubted formative and didactic nature, has made this practical session much more enjoyable and highlights the potential of using telescopes, which are generally not available to amateur astronomers, when they become accessible to them.

Many amateur astronomers, who have extensive experience in astronomical data observations and analysis, can make valuable contributions to Pro-Am collaborations from telescopes in the ETN network.

 

 
 

Transit of the exoplanet WASP-14b. Images (not calibrated) treated with FotoDif by Mercè Correa (Sabadell Astronomical Association).

  

 

 

Comet C / 2021A1 astrometry, made from one of the images during the live session by Arnaud Leroy (Société Astronomique de France (SAF), Uranoscope de l'Ile de France).
However, one of the difficulties they may encounter is little or no experience in the subtleties of writing proposals for access to these resources. The main objective of this workshop has been to counteract this disadvantage and has dedicated the second of its sessions to this, in which the public information of the proposals approved so far has been analyzed and examples of studies that can be carried out by fans have been shown. with the telescopes of the network, highlighting the scientific contribution of these observations. Likewise, both the open call and the financing application form and the information that must be reflected in it under the appropriate approach to be accepted have been explained in detail.

A good example of the possibilities of the project are the results obtained during the practical session with the Calar Alto telescope, (in the picture above).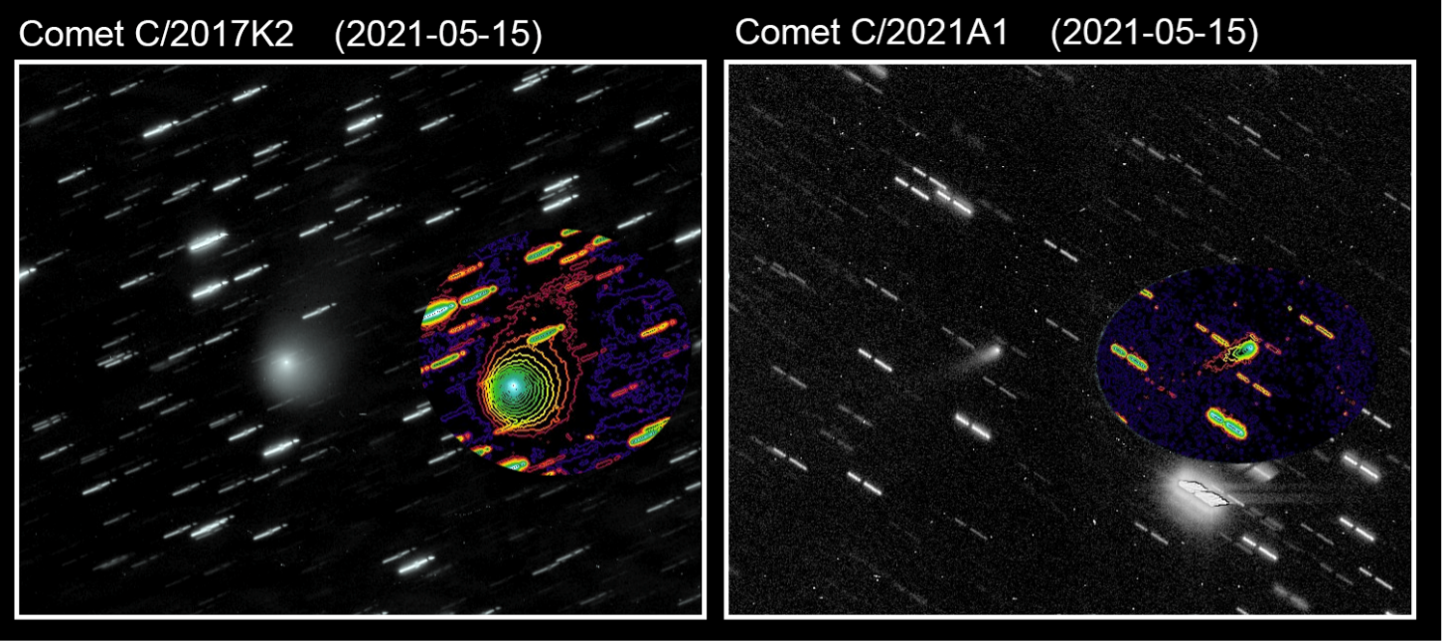 Comets C / 2017K2 (left) and C / 2021A1 (right). Data analyzed by Ramón Navés and Montse Campàs, (Obs. Montcabrer-MPC 213). The images stack 25 and 21 exposures of 2 minutes respectively, taken on the night of 05/16/2021 with the 1.23m and the CCD DLR-MKIII from Calar Alto during the workshop. The colored boxes represent the isophots in both cases.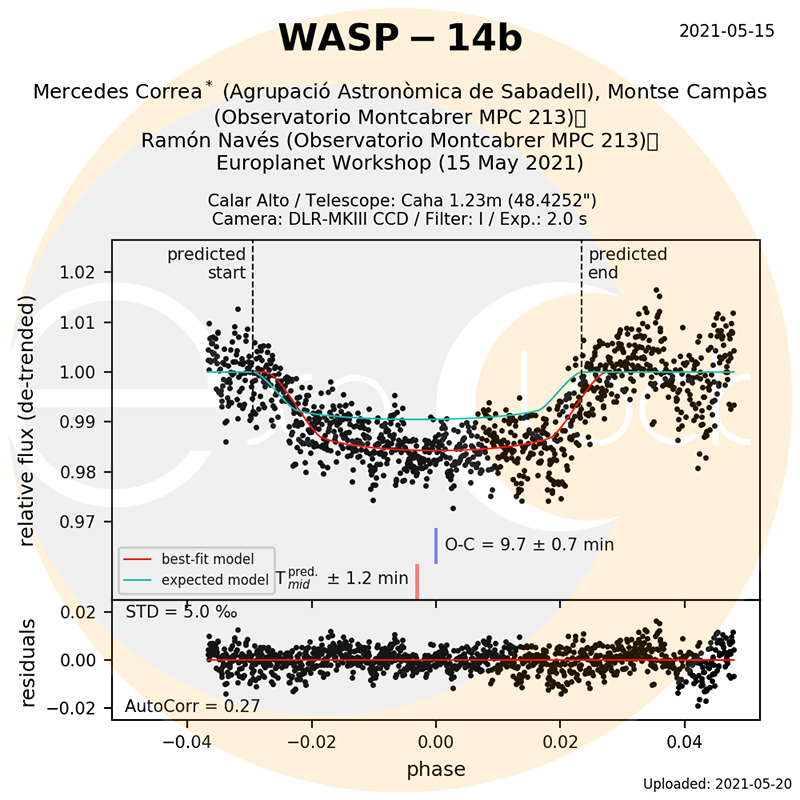 Transit of the exoplanet WASP-14b based on 2-second exposures with filter I. Data analyzed and calibrated by Mercè Correa, Ramón Navés and Montse Campàs with the Hops software of the ExoClock project from the 1,189 shots taken during the workshop
.
---

---